New update from the Andersen´s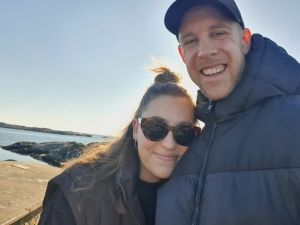 Hello dear friends!
Spring has finally sprung, the sun is out and we have a lot to share!
TURKEY/ALBANIA
It's been an exciting past few months with the DTS students out on outreach and hearing all that God has been doing in and through them! Gøran got to visit 1 of those teams in Turkey/Albania and he had the BEST time! It was so nice for him to be back in Turkey and to speak Turkish again! He went to encourage the team and to join in on what they were doing for 1 week! There was lots of friendship evangelism, prayer, worship and good food! He also got to see some very dear friends who are now missionaries in Albania and that was super special! Pictures below!
DTS
As of yesterday all the outreach teams are back and we have started Re-entry week, which is the last week of our DTS! So this Saturday is the graduation and the end of another 6 month school. It's been a privilege and an honour to walk with these students and staff and to see them grow and experience more with God!
We will have staff debrief and some leadership training in the weeks to come and then Gøran has some time off before continuing to plan the next school… which leads me to our next update….
AUSTRALIA!!!!
Australia has finally opened up it's borders and we felt that it was time to try to visit my family and be home for a few weeks!
So tickets are booked! We will leave Norway the 23rd March and come home the 13th April!
It's been almost 3 years since we have been home and seen family so we are extremely excited to finally be going!
Please pray that the borders stay open and that we are able to travel in and out without complications!
Obviously a trip like this costs a lot so if you would like to help us cover some of the expenses you can do so through the options below!
Either way we are so grateful to have you here and that you want to read about what God's doing in our life.
Thank you!!!
PAYPAL: andersen.goran@gmail.com
VIPPS: 92304452 – marked «Australia»
https://usercontent.one/wp/www.betaniakrs.no/wp-content/uploads/2022/03/unnamed-21.jpg
1368
1824
Betania Kristiansand
https://usercontent.one/wp/www.betaniakrs.no/wp-content/uploads/2017/08/logo-betania-340x156.png
Betania Kristiansand
2022-03-14 08:46:36
2022-03-14 08:57:18
New update from the Andersen´s